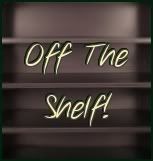 Click for full details.
Hooray, a challenge to help manage the books that have been languishing in to-be-read-land! Most of my books aren't actually on my shelf, as I'm mostly a library girl, but I have a huge TBR list in LibraryThing.

The challenge is to read books you've already bought/put on the list before the challenge starts on January 1. I'm going to do the Trying level, which is 15 books, but maybe I'll be able to bump it up later in the year.
1. The Debutante Divorcee by Plum Sykes
2. A Much Married Man
by Nicholas Coleridge
3. What Comes After Crazy
by Sandi Khan Shelton
4. Girl Who Stopped Swimming
by Joshilyn Jackson
5. The Lace Reader
by Brunonia Barry
6. The Future Homemakers of America
by Laurie Graham
7. Bitsy's Bait and Barbecue
by Pamela Morsi
8. Miss Julia
Hits the Road by Ann B. Ross
9. Dewey: The Small-Town Library Cat Who Touched the World by Vicki Myron
10. How to be Bad by E. Lockhart, Sarah Mlynowski and Lauren Myracle
11. One Day by David Nicholls
12. When a Man Loves a Weapon by Toni McGee Causey
13. The House on Tradd Street by Karen White
14. Revenge of the Wrought-Iron Flamingos by Donna Andrews
15. Best Friends Forever by Jennifer Weiner